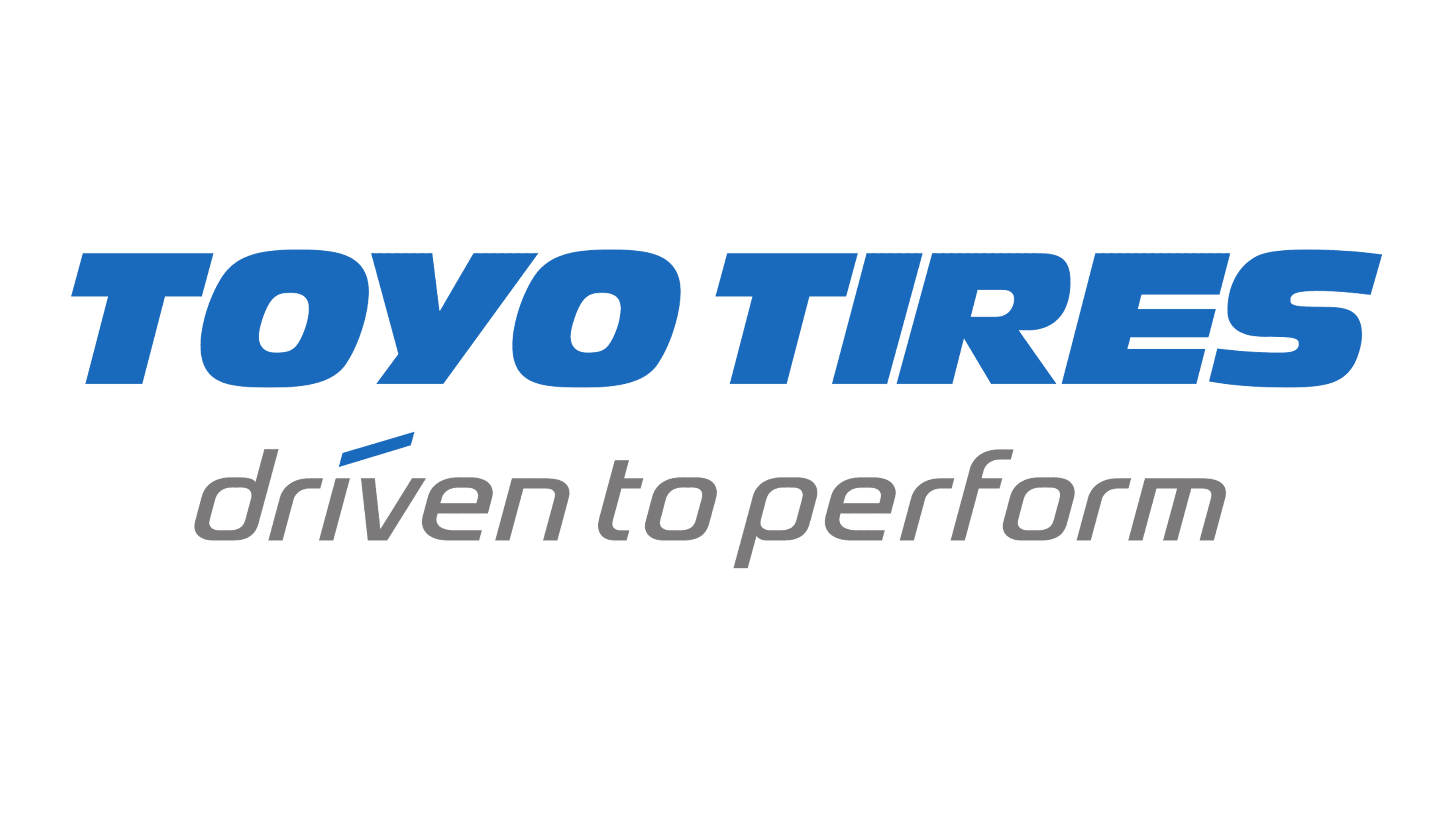 About Toyo Tires
The Toyo group of companies serves in the Americas, Europe, Asia, the Middle East, and Oceania. Toyo tires have a strong global reputation. Tire Review magazine's Annual Tire Brand Study has named Toyo Tires the #1 Overall Brand in North America.
Toyo tires have won championships in road racing, off-road racing, and drifting. These motorsports activities have given Toyo tires invaluable knowledge, insight, and passion, which pushes the company to create the latest tech and innovations.
Toyo tire Canada, Inc. is directed by Mr. Kenji Kubo and has 900 independent tire dealers across the country. Toyo tire portfolio includes high-performance, racing-inspired Proxes, Open Country for light trucks and SUVs, luxury-touring Versado LX, and commercial vehicle tires.
Toyo tires have tires for your car, truck, SUV, or passenger car. Toyo tires remain committed to innovation, durability, efficiency, and exceptional customer service.
Large selection of tires to choose from
Toyo tires are known for their quality and durability, making them a popular choice for everyday use. Whether you're looking for a tire to handle freezing winter conditions or blistering summer weather, Toyo has an option that will suit your needs. With a wide variety of all-season tires available, it can be tough to decide which one is the right fit for you.
Use our Tire Finder to easily discover the best tires for your vehicle!
Toyo has designed and manufactures a world-class tire for sports cars and luxury SUV's. The tires are created using a technologically advanced design that has optimal tread patterns for competitive racing.
Toyo has done an excellent job manufacturing tires for the average driver. By consistently delivering a high-quality and reliable tire it has become a company with a loyal following.
why choose toyo?
High Quality, Reliability, & Traction Control
Toyo Tires is Driven to Perform. This isn't limited to racers, but to Canadian professionals who know how to win. Toyo Tires Canada praises your efforts on the racetrack, hill, and everywhere else.
Their research and development team are dedicated to leading the way with innovative tire technology. They have consistently delivered a reliable tire that finds unique ways to give you quicker acceleration, more precision, and enhanced stopping power.
Specialty Tires: Toyo is recognized for its specialty tires designed for specific purposes, such as ultra-high-performance tires, off-road tires, and tires for motorsports enthusiasts. If you have specialized driving needs or require specific tire characteristics, Toyo may have a tire model tailored to your requirements.

Customer Satisfaction and Support: Toyo strives to provide excellent customer satisfaction. They offer warranties on their tires, which can provide peace of mind to customers in case of any defects or issues. Additionally, Toyo has a strong network of authorized dealers and service centers, ensuring accessible support and assistance for tire-related needs.

Brand Reputation: Toyo has established itself as a reputable brand in the tire industry. While not as globally recognized as some other tire brands, Toyo has gained a solid reputation among enthusiasts and performance-oriented drivers. Their tires are often well-regarded by those who prioritize quality and performance.
Toyo: TIRES FOR EVERY REASON
Winter tires are for ice, frost, water, mud, and cold weather. Toyo's winter tires can excel in all conditions.
Toyo's winter tires include improved snow traction technology.
Observe GSI-6
Observe G3-ICE
Open Country WLT1
The innovative design elements and unusual tread patterns of Proxes tires enable them to provide great performance.
Proxes R1R
Proxes R888R
Proxes RR
Cinturato P1 Verde, P7 Blue, P7 (P7C2), summer tires, and Power are eco-friendly, promoting driving comfort and lowering emissions.
Toyo Tires is ready for winter surprises, as shown by Transport Canada's snowflake insignia, but also designed to last longer and run smoother in warm temperatures. These tires include high-tech for all-weather protection. Here are some examples:
Celsius
Celsius CUV
Celsius Sport
Open Country A/T III
Open Country C/T
M-55
Celsius Cargo
Toyo open-country tires are built for speed, endurance, and efficiency. Open country tires' strong tread lets you safely tackle challenging terrains.
Open Country M/T
Open Country R/T
Open Country A/T III
Open Country WLT1
Celsius Cargo
Proxes ST III
Open Country Q/T
Open Country H/T II
Open Country C/T
M-55