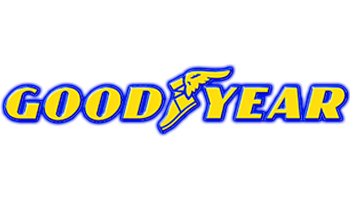 History of goodyear TIRES
Over the course of more than 120 years, Goodyear has created the technology that enables you to continue moving, so you may travel farther and farther than before.
Goodyear is a firm dedicated to forward motion, not just tires. The goal is to break through barriers so that you can do the same. The primary goal from the get-go has been continuous forward motion.
Movement unlocks human potential. Humans are born to move, on the road or at any game or sport. When the lights are brightest, motion reveals an athlete's potential.
Large selection of tires to choose from
Goodyear offers a wide range of tires for different purposes. There are all-season tires, all-terrain tires, summer tires, and winter tires. Each type is designed for a specific purpose, and Goodyear offers a variety of options within each category.
Use our Tire Finder to easily discover the best tires for your vehicle!
Goodyear Performance Tires
From dirt to super racetracks, this brand has helped riders break limits for decades. They maintain a constant state of inquiry, experimentation, and growth. From autonomous cars to performance racecars, Goodyear is a leading brand changing the way performance tires are designed and manufactured.
Goodyear's Passenger Tires
When the average person think about tires, the first thing that comes to mind is Goodyear. Goodyear has done an excellent job creating reliable tires for your everday use.
why choose Goodyear?
Goodyear has tires for everyone. The company provides a variety of tire features, costs, and sizes, and make it simple to evaluate them. They have been one of the leading tire brands in the world for the last 100 years.
Brand Recognition: Goodyear is a globally recognized brand, and its tires are widely available in many locations worldwide. This brand recognition and availability make it convenient for customers to find Goodyear tires and access related services such as tire maintenance and repair.

Flexibility: Goodyear tires are versatile. They can handle road wear, rain, sleet, slush, and mild snow.

Tire Technology and Innovation: Goodyear invests heavily in research and development to continually improve their tire technology. They introduce new tire designs, materials, and features to enhance performance, safety, and fuel efficiency. Customers who prioritize cutting-edge technology may be drawn to Goodyear for its innovative tire offerings.
Goodyear: TIRES FOR EVERY REASON
Winter tires, often named snow tires, help to improve performance under 45 degrees F (7.2 degrees C). If you live where winters are severe, you may need winter tires. Here are some examples you can choose from:
Goodyear Eagle Ultra Grip GW-2
Goodyear Eagle Ultra Grip GW-3
Goodyear Ultra Grip 8 Performance
Goodyear Ultra Grip Ice WRT
Goodyear Ultra Grip Winter
Goodyear Winter Command Ultra
Goodyear's summer tires offer responsive control, speed, stopping, and grip in wet and dry weather. Summer tires are good for accurate handling in favorable weather. Here are the following tires you can get for summer:
Goodyear Eagle F1 Asymmetric, 2, 2 ROF
Goodyear Eagle F1 Asymmetric 3, 3 ROF, Sound Comfort Technology
Goodyear Eagle F1 GS EMT, GS-2 EMT
Goodyear Eagle F1 Super Car, Super Car 3, Super Car 3R, Super Car EMT, Super Car G:2 ROF
Goodyear Efficient Grip ROF
Goodyear Excellence, ROF
Goodyear's all-season tires include optimized pattern designs for dry, rainy, and snowy roads. If you live in a place with varying weather, these tires may be for you. All-season tires have benefits:
Tread Life: All-season tires survive longer than single-season tires. Many have treadwear assurances.
SUV Tires: SUV tires provide convenience and all-season mobility for dry and wet roadways.
Tires for Trucks and Pickups: Tires provide off-road speed, on-road performance, and enjoyment.
Tires for Crossover/CUVs: CUV tires provide all-season performance and a pleasant, peaceful ride.
Some tires meet specific operating requirements based on the nature of your trip, road conditions, and off-roading. Here are some available options:
All-Terrain Tires: All-terrain tires guarantee optimum performance when driving on- and off-road.
Flat-Out: With flat-out tires, a distance of 50 miles is achievable, with 50 mph maximum speed on a deflating or deflated tire.
Gas-Saver Tires: Energy tires can help save gas while ensuring continuous stability in both dry and wet situations.
Performance Sport Tires: High-performance tires increase control, efficiency, and wet/dry contact.