Wheel Alignment in OAKVILLE
Local Tire Guys offers wheel alignment services in Oakville, ON.
Proper wheel alignment is essential for your vehicle's overall performance and safety. Misaligned wheels can cause a wide range of issues, including:
Uneven tire wear
Reduced fuel efficiency
And poor road handling
At Local Tire Guys, we're excited to introduce you to our newest Hunter Alignment Scissor Lift RX10 and the Hawk Eye Elite Aligner equipment. These tools represent the latest in automotive technology and are ideal for customers who need wheel alignments for high-end exotic vehicles or modified cars.
For Wheel Alignments in Oakville
Call us at (905) 582-7500
See what our customers say about our alignment services
Went in for wheel alignment, came out with what appears to be a brand new car!! These guys are magicians, fast efficient & fantastic pricing in comfortable surroundings! Seriously felt like I was visiting family, never met them, yet it felt like I'd known them for decades! Wishing them continued success! I will be a lifelong customer!!
- Cliff Quan
I will never take my cars anywhere else! I came in for an alignment and my car has never driven better, also bought tires and rims for my other car. LTG provides amazing service, absolutely love the staff. These guys are extremely honest, knowledgeable, and don't want to rip you off like most mechanics. 10/10 recommend if you truly care about your car.
- Nicole Ramirez
I came across LTG through a friend of mine who recommended it. I needed an alignment, and they were able to schedule an appointment quickly despite it being at the peak of tire changing season. Karman was very pleasant to deal with, the facility and equipment is in great condition and the shop rates are very reasonable.
- Luigi Cornelio
Great Service. Came here to get new tires and a wheel alignment. They gave me a great price. The service was phenomenal. Very clean waiting room, unlike typical shops. The guys were great, patently explained the process. Had my car out of the shop in 20 minutes. Would 100% recommend for all your tire service needs.
- Jagdish Gill
What Is Wheel Alignment?
Wheel alignment does not only adjust the wheels themselves. Instead, it is a holistic process that affects the whole vehicle's health and performance.
Specifically, wheel alignment services refer to the adjustments made to your car's suspension or the system that connects the vehicle to its wheels.
The goal is to revert the wheels and their angle to the original specifications, where they become straighter and face the same direction.
Thus, the wheels all point straight after proper alignment and have better contact with the road's surface.
So, not only are the wheels adjusted, but your whole vehicle reaches an optimum state, all leading to a better driving experience and safety on the road.
And this is the kind of service that your Local Tire Guys promises.
Click here to learn How You Can Tell You Need A Wheel Alignment.
Hunter: state of the art alignment equipment
At the Local Tire Guys we're dedicated to using top of the line machinery to re-align your vehicle. We take pride in offering the finest equipment and expertise to ensure that your vehicle's wheels are perfectly aligned for optimal performance. Our modern facility features the renowned Hunter Hawkeye Elite Wheel Aligner and the Hunter Alignment Scissor Lift RX10, setting the industry standard for precision and accuracy.
Hunter Hawkeye Elite Wheel Aligner
This state-of-the-art wheel alignment equipment offers unparalleled accuracy and ease of use. It has advanced sensors and cameras that can measure your car's alignment with incredible precision.
Our skilled technicians can use the Hawk Eye Elite Aligner to diagnose and correct even the most complex alignment issues, ensuring that your vehicle drives straight and true.
The Hawk Eye Elite Aligner measures a wide range of alignment angles and parameters, including camber, caster, toe, and more.
This means that we can make adjustments that are tailored to your vehicle's specific needs, resulting in improved fuel efficiency, better handling, and longer tire life.
What sets the Hunter Hawkeye Elite apart is its lightning-fast operation. Unlike traditional wheel alignment machines that require manual adjustments and time-consuming processes, the Hawkeye Elite streamlines the alignment procedure with its automatic and touchless operation. This not only saves valuable time but also eliminates the risk of human error, resulting in a more accurate and reliable alignment.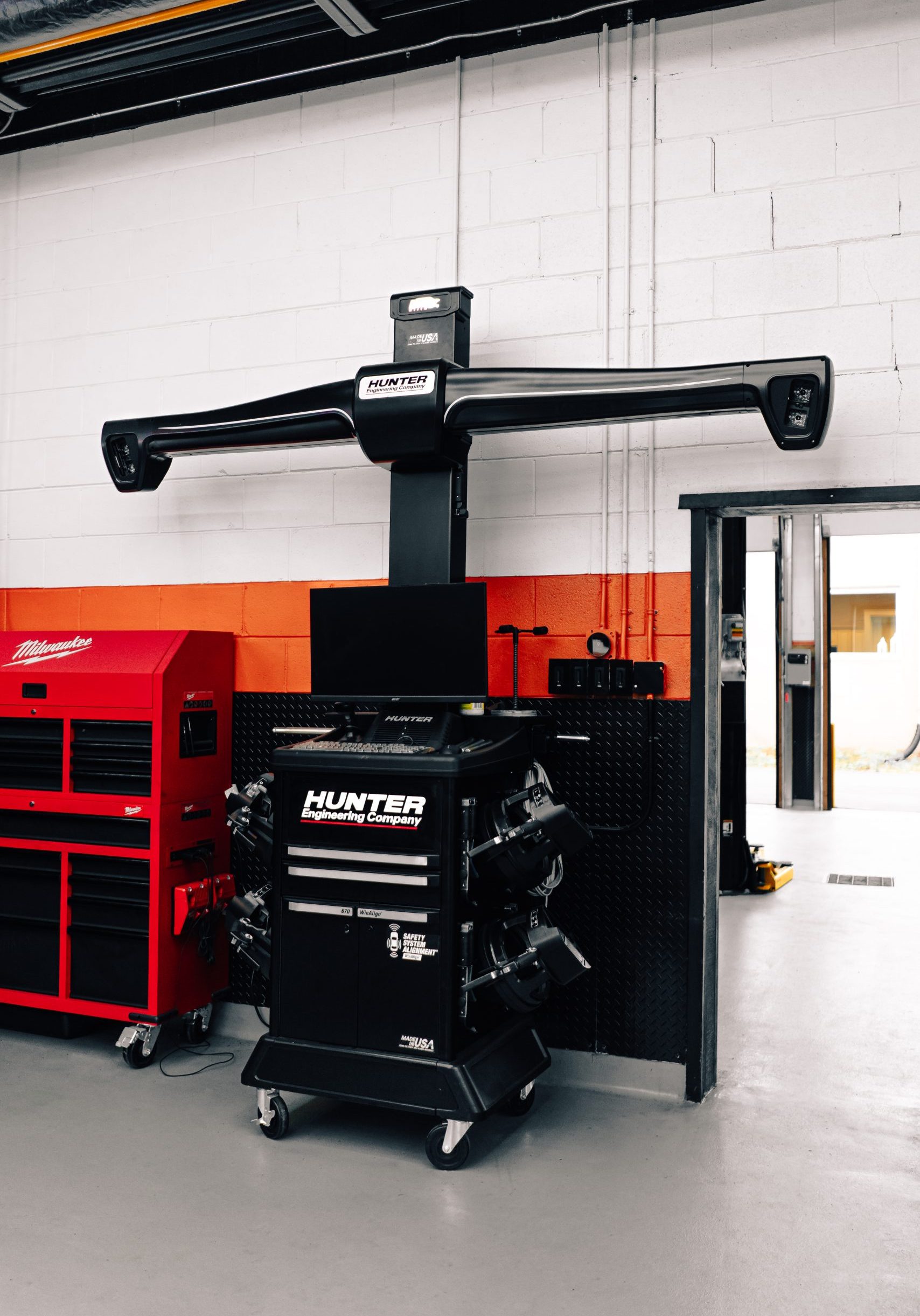 Hunter Alignment
Scissor Lift RX10
In conjunction with the Hawkeye Elite, our Hunter Alignment Scissor Lift RX10 completes the perfect alignment experience. Engineered with precision and built to last, this state-of-the-art scissor lift provides unparalleled stability and flexibility during the alignment process. Its innovative design allows for precise positioning of the vehicle, ensuring optimal access to all suspension components and enhancing the accuracy of adjustments.
The RX10 scissor lift features advanced safety features, including integrated wheel chocks and automatic safety locks, providing peace of mind for both our technicians and our valued customers. With its efficient lifting capacity and compact footprint, the RX10 offers versatility and convenience, accommodating a wide range of vehicle types and sizes.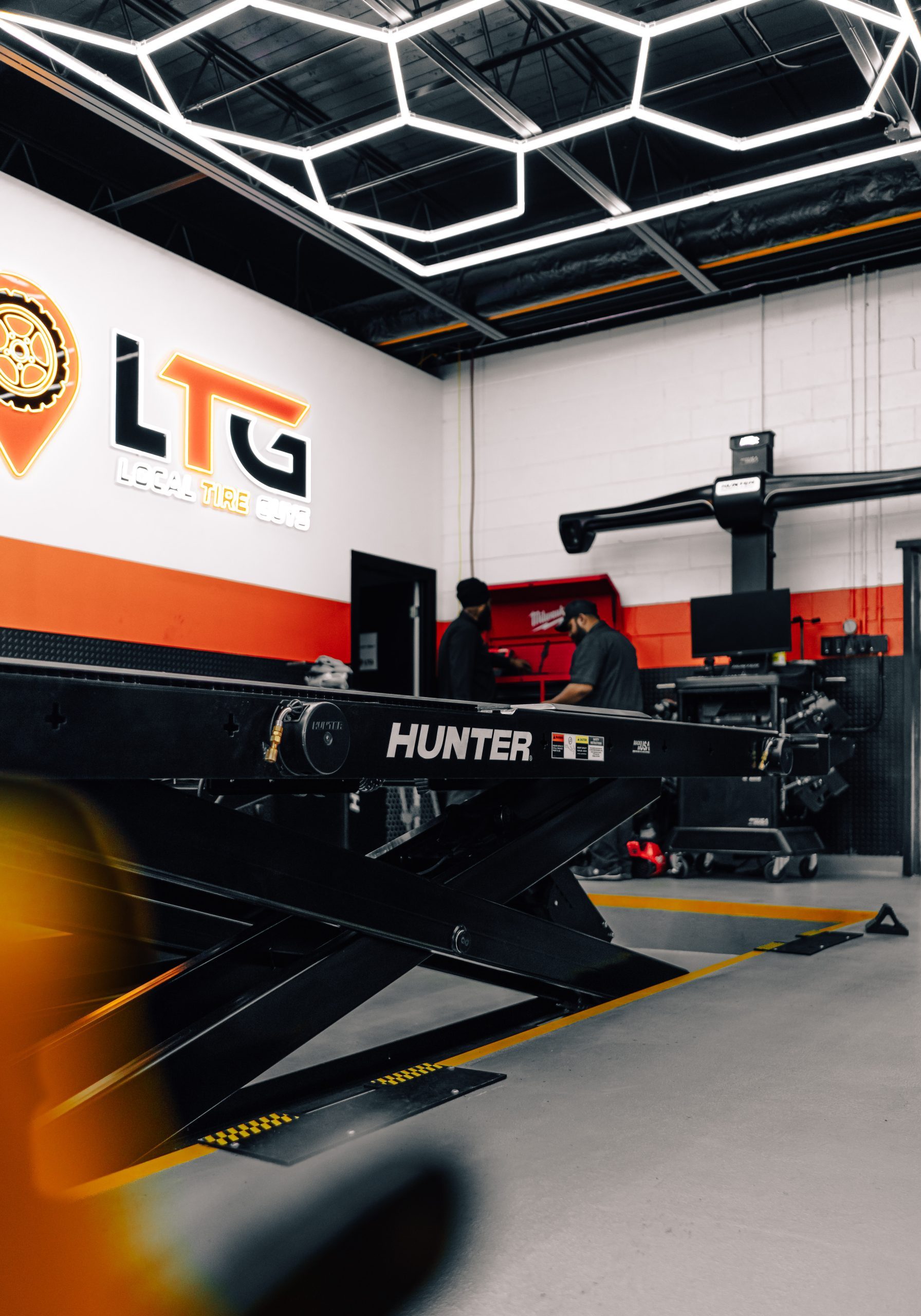 Why Hunter Alignment Equipment is the Best
At our alignment shop, we believe that investing in the best equipment translates into superior service and exceptional results for our customers. When you choose our Hunter Hawkeye Elite Wheel Aligner and Hunter Alignment Scissor Lift RX10, you can expect:
Unparalleled Accuracy: Our cutting-edge equipment ensures precise measurements and adjustments, delivering a perfectly aligned vehicle every time.
Efficiency and Time Savings: The advanced technology of the Hawkeye Elite and the user-friendly features of the RX10 enable us to complete alignments quickly and efficiently, minimizing your wait times.
Expert Technicians: Our highly trained and experienced technicians are proficient in operating the Hunter equipment, guaranteeing that your vehicle receives the utmost care and attention to detail.
Trust and Reliability: As a reputable wheel alignment shop in Oakville, we take pride in our commitment to excellence, transparency, and customer satisfaction. We stand behind our work and strive to exceed your expectations with every visit.
Don't settle for anything less than perfection when it comes to your vehicle's wheel alignment. Experience the world-class quality of the Hunter Hawkeye Elite Wheel Aligner and the Hunter Alignment Scissor Lift RX10 at Oakville Wheel Alignment. Contact us today to schedule an appointment or learn more about our services. Drive with confidence, knowing your wheels are aligned to perfection!
Does Your Car Need
Wheel Alignment Services?
Now that you know what wheel alignment is all about, the next question is, "how do you know when your wheels need to be aligned?"
With the importance and benefits of wheel alignment, it's only apt that your ride keeps its wheels straight and properly aligned. And your Local Tire Guys couldn't agree more.
So, if you're wondering when it's time for wheel alignment services, there are some signs you need to know and watch out for.
If you observe one or more of these issues, it's time to visit your Local Tire Guys or call us at (905) 582-7500.
Indicators of Wheel Misalignment:
Your car pulls to one side.
The steering wheel is not in the center when you're driving straight.
The steering wheel vibrates.
Uneven tread wear.
We'll be checking your vehicle's camber, toe, and caster to know where the problem lies and how to fix it properly. And you'll only need to wait for at least an hour to get your car back with the wheels properly aligned.
However, the time it takes for us to align your wheels properly will depend on the overall condition of your car. So, don't worry if it takes longer than usual. We're just making sure everything is all good.
Related Tire Services
We also offer a range of other services, including tire rotation, wheel balancing, and tire repairs. Contact our experts to learn more about our wheel and tire services.
Our technicians are highly trained and experienced, so you can trust us to take care of your vehicle's tire and alignment needs. We're committed to providing our customers with the highest level of service and expertise, which is why we invest in the latest equipment and technology.
At Local Tire Guys, we take pride in our commitment to providing the highest level of service and expertise. With the industry's best equipment, our skilled technicians are ready to put them to work for you.
We understand that every car is different, and we tailor our wheel alignment Oakville services to meet the specific needs of your vehicle. Our goal is to ensure that you're driving a vehicle that's safe, efficient and performs at its best.
Have New Tires? Check for Alignment!
What's better than getting new tires? Getting new tires installed and aligned correctly, of course!
Yes, technicians can install new tires incorrectly, too. So, apart from the indicators of wheel misalignment mentioned above, having new tires installed might also be one reason why you need wheel alignment services.
Summary
Wheel alignments involve a precise process for getting your tires back to their optimal condition—straight and well-functioning. The result? Better handling; no pulling in one direction; and generally smoother and safer navigation when you're on the road.
The Hunter Alignment Scissor Lift RX10 and the Hawk Eye Elite Aligner are two cutting-edge pieces of equipment that represent the latest in automotive technology. And we have them.
At Local Tire Guys, we're committed to providing our customers with the highest level of service and expertise. We use state-of-the-art equipment and skilled technicians are here to help you optimize your vehicle's performance.
We recommend having your wheels checked at least twice every year. Doing so will give you a better return on your investment: safer road trips, longer tire life, better fuel efficiency, and fewer repairs.
It's a practice that's well worth it. To learn more, call (905) 582-7500